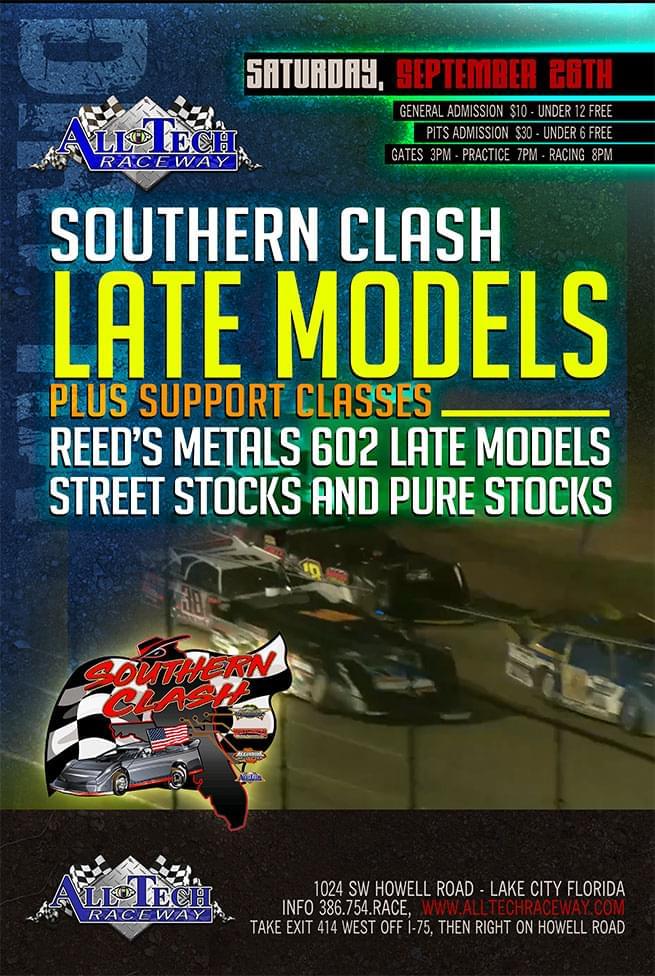 2020 SEASON SCHEDULE
Sat Sept 26, 2020
Southern Clash Late Models
Reed's Metals 602 Late Models
Street Stocks
Pure Stocks

Fri Oct 9, 2020
Sport Compact Dirt Racing Association (SCDRA) (first round qualifying)
Reed's Metals 602 Late Models (full show)

Sat Oct 10, 2020
$5000 to Win Sport Compact Dirt Racing Association (SCDRA)
Crate Racin USA Late Models
Reed's Metals 602 Late Models
Street Stocks
Pure Stocks

Weds Oct 21, 2020
The 25th Running of The Powell Family Memorial.
Parking begins at 12 noon, Registration, and free open practice for Late Models only.
Thurs Oct 22, 2020
Parking , Registration & Practice
Gates open at 12 noon $20 person
Open practice from 7-10.
Fri Oct 23, 2020
Qualifying and Heats for Late Models. Gates open at noon
Support division T.B.A
Sat Oct 24, 2020
The 25th Running of The Powell Family Memorial
$25,000 to Win. (67 laps)
Support divisions T.B.A.
Thurs Nov 12, 2020
Open Practice
$20 from 7:00 – 10:00pm
Fri Nov 13, 2020
The Harvest 100 Qualifying and Heats for Pure Stocks
Full show for 602 Late Models
Sat Nov 14, 2020
The Harvest 100 $10,000 to Win Pure Stocks
Crate Racing USA Dirt Late Models
Fri Dec 4, 2020
Open Practice
$20 per person from 7:00 – 10:00pm
Sat Dec 5, 2020
$5000 to Win Reeds Metals 602 Late Model Nationals (50 laps)
Street Stocks
Pure Stocks
ALL TECH RACEWAY RAIN CHECK POLICY: ALL SALES ARE FINAL AND NO CASH REFUNDS WILL BE GIVEN AT ANY TIME. From time to time Mother Nature does not cooperate with the scheduled race program. In that event All Tech Raceway will adhere to the following guidelines.
A scheduled race will be considered completed and NO REFUNDS OR RAIN CHECKS WILL BE ISSUED after the completion of the first scheduled feature event. (said feature will be considered completed if half the distance of the advertised laps have been completed for that feature event.) The remaining features will be rescheduled for double features on the next scheduled event or as soon as scheduling allows.
If Mother Nature dampers said events prior to the completion of the 1st scheduled feature, rain checks (tickets/armbands) will be honored for the next scheduled race, or the next scheduled race of the same sanctioning body. Rain checks will NOT be honored at any other time.
Rain checks are you tickets or wrist bands from the rained out show, rain checks must be presented for rain check credit as described above. This will be your responsibility to hold on to your ticket stub/arm band for re-entrance into the next scheduled event.
In the event the next race has a higher admission price any additional admission fees will be the responsibility of the ticket/wrist band holder to pay prior to admittance.
Other than rain checks as described above there will be no compensation or refunds of any kind for any tickets/wristbands purchased. All sales are FINAL. Please bear with us during inclement weather, and thanks for your patience and understanding.