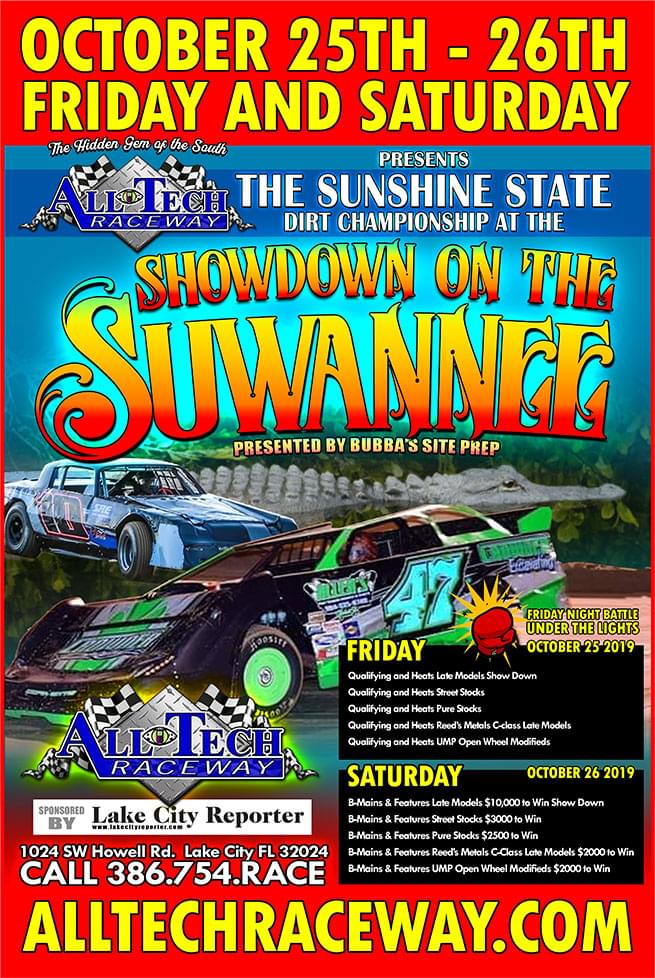 RACE TEAMS YOU MUST PER-REGISTER BY OCT 10TH
RACER PRE-REGISTRATION
(Pre-registration entries must be post marked by 10/10/2019)
| | |
| --- | --- |
| Late Models $10,000 to Win | $250 Entry |
| Street Stocks $3,000 to Win | $75 Entry |
| Pure Stocks $2,500 to Win | $50 Entry |
| C-Class Late Models $2,000 to Win | $50 Entry |
| UMP Open Wheel Modifieds $2000 to Win | $50 Entry |

 CLICK HERE TO DOWNLOAD THE REGISTRATION FORM

 CLICK HERE TO DOWNLOAD THE 1099 FORM
RACER REGISTRATION
| | |
| --- | --- |
| Late Models $10,000 to Win | $275 Entry at Gate |
| Street Stocks $3,000 to Win | $100 Entry at Gate |
| Pure Stocks $2,500 to Win | $75 Entry at Gate |
| C-Class Late Models $2,000 to Win | $75 Entry at Gate |
| UMP Open Wheel Modifieds $2000 to Win | $75 Entry at Gate |
PIT ADMISSION
| | | | | | |
| --- | --- | --- | --- | --- | --- |
| | Thursday | Friday | Saturday | Total | Advanced 3 Day |
| Adult | $20 | $30 | $35 | $85 | $75 |
| Child | $10 | $15 | $20 | $45 | $40 |
GENERAL ADMISSION
| | | | | | |
| --- | --- | --- | --- | --- | --- |
| | Thursday | Friday | Saturday | Total | Advanced 3 day |
| Adult | Free | $15 | $25 | $40 | $30 |
| Seniors | Free | $12 | $20 | $32 | $25 |
| 12 and under | Free | Free | Free | Free | Free |
CAMPING
Overnight camping will be on the west tree line of general admission parking. Camping will be $15 per night if pre registered, or $20 per night day of event.
Camping on Turn 2 Hill will be $25 per night. (Does not include pit admission, you must purchase a 3 day pit pass with this camping option.)
There will be no camping or personal vehicles allowed in pits for this event unless it is a tow vehicle.
Absolutely no children will be allowed to operate any 4 wheelers, side by sides or ATV's at any time. Speed limit will be 5 mph for any all terrain vehicle on speedway grounds (No Exceptions).
Schedule of Events
Thursday October 24, 2019
 Open Practice
Gates will open at 9:00 a.m. for parking
Pit window Open at 3:00 p.m.
Tech Opens at 5:00 p.m.
Driver Registration Opens at 5:00 p.m.
Practice from 7:00 p.m. – 10:00 p.m.
Friday October 25, 2019
Pit Gates Open at 11:00 a.m.
Tech Opens at 11:00 a.m.
Driver Registration Opens at 11:00 a.m.
Driver Registration Closes at 5:30
Grandstand Gates Open at 3:00 p.m.
Mandatory Driver Meeting at 5:35 p.m.
Practice Starts at 6:00 p.m.
Prayer and National Anthem 6:55 p.m.
Qualifying at 7:00 p.m. – Qualifying format to be explained at mandatory drivers meeting (Qualifying format will depend on car counts)
Intermission
Heat Races ALL DIVISIONS
Saturday October 26, 2019
Fan Interaction / Activities to be announced
Driver Breakfast
Autograph Session
Meet and Greet
Picture Session
Pit Crew Challenge
Pit Gate Opens at 3:00 p.m.
Grandstand gate opens at 3:00 p.m.
Driver Registration opens at 3:00 p.m.
Driver Registration closes at 5:00 p.m.
Mandatory Drivers meeting at 5:30 p.m.
Practice at 6:00 p.m.
National Anthem and Prayer at 6:55
Racing starts at 7:00 p.m.
B-Mains
Intermission
Features (Running Order subject to change)

C-Class Late Models 30 Laps
A-Mods 30 Laps
Street Stocks 35 Laps
Pure Stocks 35 Laps
Late Models 75 Laps